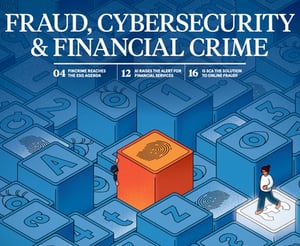 Financial crime is a multi-trillion dollar problem. Why, and what can be done about it? How do different kinds of financial services companies deal with fraud? What technologies exist to protect businesses and consumers? And can we ever stay ahead of the scammers?
We have collaborated with Raconteur to bring you this report which illustrates and educates companies on how they can take control of their fraud prevention strategy through advanced technology and collaboration.
In this report you will to learn:
The size of the fraud and financial crime problem and threat this poses to society
Why enhanced collaboration and governance is urgently required
How AI technology can help

For too long AFC has been about compliance, rather than disrupting financial crime", he says. "This is changing as banks take an intelligence-led response that delivers results for society, not just regulators.